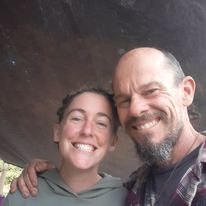 Charlie has been a chippy for 20 years and has decided to explore alternate building techniques to live in a more sustainable way. He wants to share his knowledge to enable people to build their own homes without going into debt.
Megan has been travelling for 10 years and has recently learned all about aircrete. She has no building background, but in just a short time has picked up the technique, proving just how easy it is to build with aircrete. She wants to show that anyone has the ability to build their own home.
Jason has spent over 20 years researching ecovillages, cohousing and co-living communities and completed a PhD to understand what works. He also has practical lived experience over 7 years and now resides at Crystal Waters Permaculture Ecovillage in Queensland. To continue his passion for co-creating and sharing the importance of collaborative living for a regenerative future he is also an Ambassador for the Global Ecovillage Network Australia and member of Cohousing Australia
In a short presentation Jason will share findings from the research and introduce workshops that are running throughout SEQ and NNSW to support people wishing to buy land together and create a life in the way they want to.
To find out more about information sessions and workshop locations check out https://cocreating.community/services/courses/